The Lounge > Recipes >
Pepper Mackerel
Pepper Mackerel
Ingredients: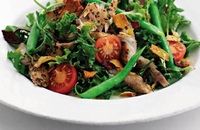 • 45ml extra-virgin olive oil
• 15ml lemon juice
• 150g green beans
• Small bag of salad leaves
• 2-3 smoked peppered mackerel fillets
• Handful of cherry tomatoes, halved Handful
• Baked vegetable crisps, crushed

Directions:
1. Whisk the olive oil and lemon juice, season and set aside.
2. Cook the
green beans in boiling salted water for 2-3 minutes, until just tender, then refresh under cold water, drain and cut in half. Tip the salad leaves into a large bowl and add the beans.
3. Peel off the skin from the mackerel fillets and tear the flesh into bite-size pieces. Add to the salad with the tomatoes.
4. Add the dressing and toss well. Divide between 2 large plates and scatter with the vegetable crisps to serve.