Ingredients: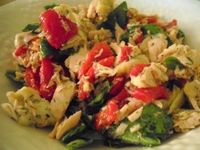 • 1 6-ounce can chunk light tuna in water, drained
• 1 7-ounce jar roasted red peppers, rinsed and sliced (2/3 cup), divided
• 1/2 cup finely chopped red onion or scallions
• 1/2 cup chopped red pepper
• 2 tablespoons capers, rinsed, coarsely chopped if large
• 2 tablespoons non fat plain yogurt
• 2 tablespoons chopped fresh basil
• 1 tablespoon extra-virgin olive oil
• 1 1/2 teaspoons lemon juice
• 1 small clove garlic, crushed and peeled
• 1/8 teaspoon salt, or to taste
• Freshly ground pepper, to taste
• 6 ounces whole-wheat penne or rigatoni, (1 3/4 cups)
Method:
1. Put a large pot of lightly salted water on to boil.
2. Combine tuna, 1/3 cup red peppers, onion (or scallions) and capers in a large bowl.
3. Combine yogurt, basil, oil, lemon juice, garlic, salt, pepper and the remaining 1/3 cup red peppers in a blender or food processor. Puree until smooth.
4. Cook pasta until just tender, 10 to 14 minutes or according to package directions. Drain and rinse under cold water. Add to the tuna mixture along with the red pepper sauce; toss to coat.