The Lounge > Recipes >
Moroccan Grilled Salmon
Moroccan Style Grilled Salmon
Ingredients: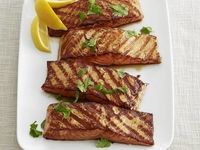 1/2 cup plain yogurt
Juice of 1 lemon, plus lemon wedges for garnish
1 tablespoon extra-virgin olive oil, plus more for the grill
2 to 3 cloves garlic, smashed
1 1/2 teaspoons ground coriander
1 1/2 teaspoons ground cumin
Kosher salt and freshly ground pepper
4 6-ounce skinless centre-cut salmon fillets
1/4 cup chopped fresh cilantro or parsley, for garnish
Method:
1. Stir together the yogurt, lemon juice, olive oil, garlic, coriander, cumin, 1/4 teaspoon salt, and pepper to taste in a small bowl.
2. Pour half of the sauce into a large resalable plastic bag; cover and refrigerate the remaining sauce.
3. Add the salmon to the bag and turn to coat with the marinade. Refrigerate for 20 to 30 minutes, turning the bag over once.
4. Preheat a grill to medium-high. Remove the salmon from the marinade and blot off excess yogurt with paper towels. Lightly oil the grill and add the salmon; cook, turning once, until browned on the outside and opaque in the centre, 4 to 6 minutes per side, depending on the thickness.
5. Serve with the reserved yogurt sauce and garnish with the herbs and lemon wedges.