The Lounge > Recipes >
Maple-Pecan Protein Packed Muffins
Protein Packed Muffins
Ingredients: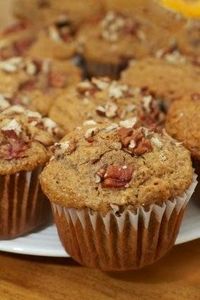 • 375 pound Oatmeal
• 56g of Oat Bran
• 14g of Whole Wheat Flour
• 6 Egg Whites
• 125g of Cottage Cheese
• 1ml of Baking Soda
• 5ml of Splenda
• 56g of Crushed Pecan
• 2 tbsp of Low-Cal Maple Syrup
• 1 teaspoon of Maple Extracts
• 1 Scoop of LA Whey Vanilla.
• 1 teaspoon of Vanilla Extracts
Directions:
1. In a blender, mix all the ingredients (except for crushed pecan). Blend until the
mix gets thick.
2. Add the crushed pecan to the mix and stir (with a
spoon or a spatula)
3. Poor the mix in a muffin cooking pan, and cook at 350
degrees F. until Browned (About 30 minutes).
Protein: 50g
Carbohydrates: 59g
Fat: 12g