The Lounge > Recipes >
Low fat Tuna Pasta
Low fat Tuna Pasta
Ingredients: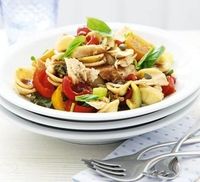 • Garlic, 1 clove
• Onions, raw, 1/2 large
Green Peppers (bell peppers), 1/2 cup, chopped
• Canned Tomatoes, chopped 1/2 can
• Oregano, dried 1/2 tsp
• Basil, dried 1/2 tsp
• Tuna, Canned in Water, 1/2 can
• Wholemeal Pasta, 50 grams
• Pepper, black, milled
Method:
1. Cook the pasta as instructed on the pack, meanwhile peel and chop the onion.
2. Peel, chop and crush the garlic.
3. Place both in a non-stick pan with 2 tablespoons of water and cook gently over a medium heat for 2 minutes until soft.
4. Add the green pepper and cook for a further 2 minutes. Drain the tomatoes then add to the pan with the herbs, reserving the juice for later.
5. Cook for about 7 minutes on a medium heat, add a little tomato juice if necessary if the mixture becomes too dry.
6. Add the drained tuna and gently heat through. Mix into the cooked pasta, add milled black pepper to taste and serve sprinkled with the cheese.
Goes well with a mixed green salad. Can be prepared the night before and gently reheated when required.