The Lounge > Recipes >
Low Fat Oatmeal Pancakes
Tasty Oatmeal Pancakes in time for Pancake Day
Ingredients: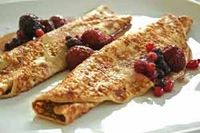 125ml egg whites
113g cup oats
113g low-fat cottage cheese
5ml baking powder
113g frozen, warmed berries with their juices as a topping or sugar free syrup
Splenda for taste


Directions:
1. Blend first four ingredients until smooth
2. Pour approximately 60ml batter for each pancake onto heated griddle or non-stick pan
3. When pancake bubbles flip and cook the other side
4. Top with frozen, organic strawberries-warmed and sliced and poured over the top with their juices. Or substitute fresh or frozen blueberries, raspberries, blackberries or bananas. You can use Splenda for taste.