Ingredients: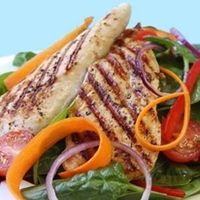 • One 4-pound 8-ounce roasting chicken
• 1 tsp freshly ground black pepper
• 1/2 teaspoon salt
• 2 large lemons
• 6 garlic cloves, peeled
• Six 4" fresh thyme sprigs or 2 teaspoons dried thyme leaves
• Additional fresh thyme sprigs, to garnish
Method:
1. Preheat oven to 350deg F. Sprinkle chicken cavities with 1/2 teaspoon of the pepper and 1/4 teaspoon of the salt. On work surface, roll lemons, pressing down slightly with heel of your hand, press lightly until softened.
2. With skewer or toothpick, pierce each lemon 15 times about 1" deep. Place pierced lemons, 5 garlic cloves and thyme into large cavity of chicken; place remaining garlic clove into small cavity. Truss chicken.
3. Sprinkle chicken evenly with remaining 1/2 teaspoon pepper and 1/4 teaspoon salt.
4. Place chicken, breast-side up, onto rack in large roasting pan; roast 2-2 1/4 hours, until chicken is cooked through and juices run clear when pierced with fork or meat thermometer inserted into thickest portion of thigh registers 180deg F.
5. Remove from oven; let stand 10 minutes.
6. Remove and discard skin from chicken and lemons, garlic and thyme from cavities; carve chicken.
7. Serve garnished with additional thyme sprigs.