The Lounge > Recipes >
Friday, 16th August 2013
LA Whey Museli Pancakes with Cinnamon Apples
This powerpacked breakfast is quick and simple to prepare which is packed with protein and complex carbs to keepyour muscles feeling full and pumped.
Ingredients: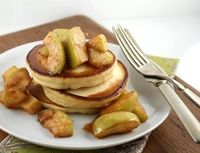 • 3/4 Cup Wholemeal Self Raising flour
• 1/2 cup muesli
• 1 Scoop LA Whey protein in banana or vanilla
• 1 egg
• 3/4 cup skimmed milk
• 3 granny smith apples, peeled and sliced
• 1 tablespoon splenda sugar
• 1/4 teaspoon cinnamon
Directions:
Combine flour, LA Whey protein and muesli in bowl and stir to combine. Mix together
egg and milk in a jug and stir well to combine.
2. Add to flour and mix well until mixture is well combined. Set aside.
3. Place apples in microwave proof bowl. Sprinkle sugar over, and pour 1 cup water over the top.
Cook apples on medium – high heat for approximately 7-8 minutes or until apples have softened.
Sprinkle over cinnamon and set aside.
4. Heat frying pan over medium – high heat. Spray pan with cooking spray and cook pancakes one at
a time, until golden brown each side.
5. Serve immediately with apples.