The Lounge > Recipes >
Honey And Peanut Butter Protein Bar
High Protein Whey, Honey And Peanut Butter Bar
Ingredients: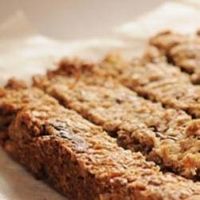 • 2 Scoops LA Whey Protein Powder Chocolate
• Oats, 1 cup
• Peanut Butter, Natural, 16 ounces
• Honey, 8 tablespoons
Directions:
1. Combine the honey and peanut butter in a microwave safe bowl.
2. Place this combination into a microwave and heat for 20 seconds.
3. Stir and heat for an additional 20 seconds.
4. Continue this pattern until the honey and peanut butter are soft enough to be mixed with the oats and whey.
5. Next, mix in the LA Whey protein powder and oats.
6. Spread this mixture into a 9x9 or 9x13 pan. You may want to lightly grease the pan, or line the bottom and sides with baking parchment paper.
7. Place the pan in your fridge for an hour.
8. Remove, cut into desired squares, and enjoy