Ingredients: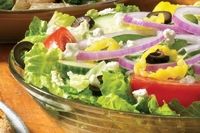 • 1 Yellow pepper, thinly sliced
• 2 Tbsp Fresh parsley leaves, roughly chopped
• Half Red onion, thinly sliced
• 10 Large black olives
• 6 Cherry tomatoes, halved
• Small Tin of tuna (100g), drained
• 2 handfuls Baby spinach
• 1 teaspoon lemon juice
• 1 tablespoon extra-virgin olive oil
• A little Dijon mustard (optional)
• Half a crushed garlic clove
Method:
1. Whisk together the dressing ingredients in a small bowl.
2. Combine the peppers, parsley, onion, olives, tomatoes and tuna in a medium-size bowl.
3. Pour the dressing over the salad and toss to coat. Pile the spinach leaves on your box.
4. Top with the tuna mixture.