The Lounge > Recipes >
High Protein Strawberry Crepes
Deliciously High Protein Strawberry Crepes
Ingredients: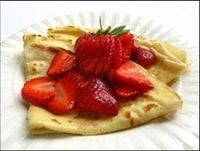 100g all purpose flour
3 Tbsp calorie-free sweetener
1/8 tsp salt
340ml skim milk
2 large eggs
1 Scoop LA Whey Protein Powder (Flavour of your Choice, for this recipe we used Vanilla)
1/2 tsp (2.5ml) vanilla extract
1 Cup Strawberries
Non-stick cooking spray
Directions:
1. Assemble all ingredients.
2. In a large bowl combine flour, calorie-free sweetener and salt.
3. Add milk, eggs, LA Whey powder and vanilla; whisk mixture until very smooth.
4. Place batter in fridge for one hour to allow flour to absorb liquid.
5. Place skillet or crepe pan over medium heat; heat until hot.
6. Spray pan with non-stick cooking spray.
7. Pour 1/4 cup batter in pan and swirl to form thin layer.
8. Cook for about 1 minute or until golden brown on the bottom, flip and cook other side for 30 seconds.
9. Place cooked crépe on a towel; cool for about 2 minutes.
10. Cut and add Strawberries on top.
11. Arrange crepes with wax paper between each layer to prevent sticking.