Ingredients: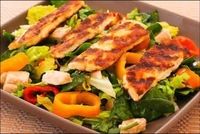 • (Makes 2 salads with extra dressing)
• Ingredients:
• 4-5 cups salad greens
• 6 mini peppers (or chopped bell pepper)
• 1 cup diced leftover cooked chicken (or more)
• 4 slices Halloumi, cut 1/2 inch thick
• olive oil, for brushing cheese
• Dressing Ingredients:
• (This is about twice as much dressing as you need, but it's good to have in the fridge for later. Cut it in half if you prefer.)
• 1/4 cup fresh lemon juice
• 1/2 tsp. Dijon mustard
• 1/2 tsp finely minced garlic (or use garlic puree in a jar)
• 1/4 tsp. Greek seasoning (optional, Greek seasoning has salt, garlic, lemon, oregano, pepper, and marjoram)
• fresh ground black pepper to taste
• 6 T olive oil
Instructions:
1. Cut chicken into one inch pieces. Stir together lemon juice, Dijon, garlic, Greek seasoning (if using, and pepper, then whisk in olive oil. Put chicken in a small bowl, stir in about 2 T of the dressing, and let chicken marinate while you prep the rest of the ingredients.
2. Wash salad greens and dry or spin dry in salad spinner. Cut stem end off mini-peppers, then pull out seeds and slice in 1/4 inch thick slices.
3. Cut Halloumi into slices that are not quite 1/2 inch thick. Brush each side of cheese with olive oil. Preheat pan or outdoor grill, then grill cheese about 3-4 minutes on each side, or until well browned. (Actual time will depend on how hot your pan or grill is.)
4. To assemble salad, toss greens with chicken and mini-peppers, adding additional dressing as desired. Arrange salad on two plates, cut each piece of grilled cheese in half lengthwise and lay over salads.