The Lounge > Recipes >
High Energy Pasta
Lunch time delight- High Protein, High Energy Pasta
Ingredients: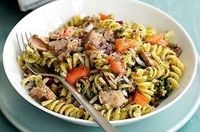 300 grams Pasta
300 grams coriander, chopped
2tbsp virgin oil
30g walnut pieces
Ground black pepper
1 small red onion, finely chopped
1 can tuna in water or brined, drained
2 tomatoes chopped
Directions:


1. Boil the pasta for 10-12 minutes until tender.
2. Drain in a colander, run under cold water and set aside.
3. To make the pesto, put the coriander in a food processor with 2tbsp of oil and whizz to a rough paste.
4. Add the walnuts and the rest of the oil and whizz again.
5. Add 2tbsp of hot water and season.
6. Stir the pesto through the pasta until evenly mixed.