The Lounge > Recipes >
Grilled chicken & Sweet potato
High protein Grilled chicken & Sweet potato
Ingredients: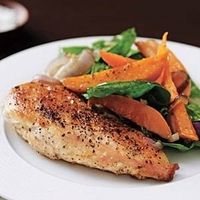 • 2 tablespoons olive oil
• 4 sweet potatoes, peeled and chopped
• 1/4 cup fresh oregano
• 12 cloves garlic, unpeeled
• sea salt
• cracked pepper
• 4 chicken breast fillets, skin on
• oil, for brushing
Method:

1. Preheat oven to 200C (400F).
2. Place oil, sweet potatoes, oregano, garlic, salt and pepper in baking dish and toss to combine.
3. Bake for 25-30 minutes or till potatoes are almost cooked.
4. While potatoes are cooking, brush chicken fillets with a little oil and sprinkle skin with extra salt and pepper.
5. Heat frying pan over medium-high heat, add chicken skin side down, and cook for 3 minutes till well browned.
6. Place chicken skin side up, on top of potatoes and garlic in baking dish.
7. Bake for a further 10 minutes or till chicken is cooked through, and juices run clear in the thickest part.
8. To serve, place the chicken and sweet potatoes on serving plates.
9. Squeeze the garlic from its skin and spread on the potatoes and chicken.
10. Serve with steamed beans and a squeeze of lemon.