The Lounge > Recipes >
Grilled Chicken Salad
High in Protein Grilled Chicken Salad
Ingredients: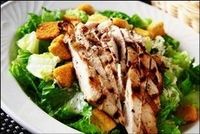 • 150 grams boneless, skinless chicken breasts, trimmed of fat
• 1 teaspoon olive oil
• 1/4 teaspoon salt, or to taste
• Freshly ground pepper, to taste
• 1 cup of washed, dried and torn romaine lettuce
• 1 cup fat-free croutons
• Caesar Salad Dressing
• 5g of Parmesan curls
• 1 lemon wedge
Method:
1. Prepare a grill or preheat broiler.
2. Rub chicken with oil and season with salt and pepper. Grill or broil chicken until browned and no trace of pink remains in the center, 3 to 4 minutes per side.
3. Combine lettuce and croutons in a large bowl. Toss with Caesar Salad Dressing. Cut chicken into 1/2-inch slices and fan over salad. Top with Parmesan curls. Serve immediately, with lemon wedges.