The Lounge > Recipes >
Tuesday, 27th January 2015
Greek-Style Chicken
Great for weight loss
Ingredients: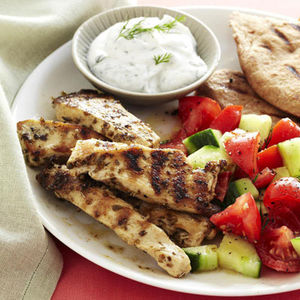 3 tablespoons chopped fresh oregano
1/4 teaspoon crushed red pepper
6 garlic cloves, coarsely chopped
4 (6-ounce) skinless, boneless chicken breast halves, cut into 1-inch pieces
1/2 teaspoon kosher salt, divided
1 tablespoon canola oil
1/2 cup plain 2% reduced-fat Greek yogurt
1/4 cup diced onion
1/4 cup chopped cucumber
1 tablespoon chopped fresh dill
1 tablespoon fresh lemon juice
4 green leaf lettuce leaves
2 plum tomato's, cut into 12 slices
1/4 teaspoon black pepper
3 ounces feta cheese, sliced
2 whole-wheat pitas, cut into wedges
Directions:
1. Combine first 4 ingredients and 1/4 teaspoon salt in a food processor; process until ground. Divide mixture into 8 equal portions; shape each into a 1/2-inch-thick patty. Heat a large skillet over medium-high heat. Add oil to pan. Add patties to pan; cook 4 minutes on each side.
2. Combine yogurt and next 4 ingredients; stir in 1/4 teaspoon salt. Place 1 lettuce leaf on each of 4 plates. Top with tomato slices; sprinkle with black pepper. Divide cheese evenly among servings. Arrange 2 patties on top of tomato mixture; top each serving with about 2 tablespoons yogurt mixture. Serve with pita wedges.