The Lounge > Recipes >
Fish Teriyaki
Quick & Healthy Protein dish
Ingredients: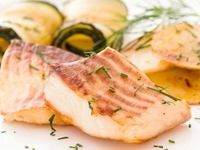 1 cup Soy Sauce,
¼ cup Splenda Sugar,
¼ cup Salad Oil,
2 tsp Ginger
2 cloves Garlic,
700 g Fish Fillets,
1 tbsp Sesame Seeds
Method: Mix together soy sauce, sugar, oil, ginger, and garlic in a large bowl.
Cut fish fillets into four equal portions.
Marinate fillets in the prepared mixture. Place fish on a broiling pan, reserving the marinade.
Simmer fish fillets 4-5-inch above the heat for 3-4 minutes, basting with reserved marinade frequently. Sprinkle fish fillets with sesame seeds. Remove from pan and serve hot.