The Lounge > Recipes >
Egg Salad Sandwich
Great for breakfast/ lunch time
Ingredients: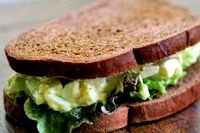 1 hard-boiled egg (large), peeled and chopped
2 Tbsp chopped celery
1 Tbsp chopped green onion
Salt and pepper (to taste)
1 leaf of lettuce
2 slices wholemeal bread
Method:

1. Mash up the chopped egg a bit with a fork. Mix together the chopped hard-boiled egg, celery and onion. Sprinkle with salt and pepper to taste. Mix with a spoon.
2. Toast your bread slices. Put a layer of lettuce on one slice of toasted bread, spread