The Lounge > Recipes >
Cottage Pie
Home made Cottage Pie
Ingredients: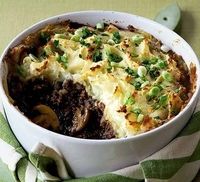 • 750g Fresh Lean Mince
• 700g Potatoes
• 226g Fresh green peas
• 75ml skimmed milk
• 30ml tablespoons toasted breadcrumbs
• 200gm fresh mushrooms optional
• 1 calorie oil (optional)
• 15ml tablespoon flour
• Handful chives or 2-3 scallions/spring onions
Directions:
1. Peel the potatoes and put on to boil, cooking until soft (about 15-20 minutes).
Meanwhile:
2. If including mushrooms in the recipe, clean and slice them. Put them in a pan over medium of heat with a couple of squirts of the 1cal olive oil and cook for 5-7 minutes until softened, reducing the heat as necessary. Add the flour and stir into any juice that has come out of the mushrooms.
3. Add the mince mixture and cook until heated through and the sauce has thickened slightly.
4. Season to taste, using fresh black pepper and salt if necessary.
5. Put this mixture into an ovenproof dish with room for the potato topping.
6. When the potatoes are cooked, drain and put them back on the hob/stove and add the milk so it has time to heat up slightly.
7. Remove from the heat and mash, seasoning as required. The mash should be fluffy and lump free. You can also add a handful of finely chopped chives or spring onions/scallions if you wish.
8. Lay this over the meat mixture and mark it in ridges with a fork, then, if using, sprinkle over either the toasted breadcrumbs or some chopped spring onions work well, or leave plain.
9. Put in a preheated oven, 200C/400F for 15-20 minutes or until the top is lightly browned.