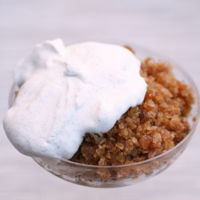 Ingredients:
• 2 cups water, divided
• 1/2 cup splenda sugar
• 1 tablespoons instant espresso powder
• 1 1/2 scoops LA Whey Protein Cappuccino powder
• 1/2 teaspoon vanilla extract
• 1/2 cup chilled low fat whipping cream
• 1/4 teaspoon ground cardamom
Preparation
Bring 1/2 cup water and 1/2 cup sugar just to simmer in heavy small saucepan over
medium heat, stirring mixture constantly until sugar dissolves. Stir in LA Whey
cappuccino powder, instant espresso powder and vanilla extract. Remove saucepan from
heat; stir in remaining 1 1/2 cups water. Pour into 9x9x2-inch metal baking pan. Freeze
mixture 1 hour; stir, mashing any frozen parts with back of fork. Cover and freeze mixture
until firm, at least 1 to 2 hours longer and up to 1 day. Using fork, scrape granita, forming
icy flakes. Return granita to freezer.
2. Beat cream and cardamom, in large a bowl until peaks form. Divide granita among
bowls or glasses. Top granita with low fat cream, enjoy