The Lounge > Recipes >
Chocolate Cake
Healthier Chocolate Cake Option
Ingredients: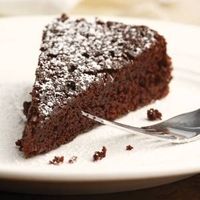 • 375 Pounds Whole Wheat Pastry Flour
• 75g Brown Sugar
• 75g Unsweetened Cocoa Powder
• 5ml Baking Powder
• 5ml Baking Soda
• 1ml Salt
• 125 Non fat buttermilk
• 1 Large Egg, Lightly beaten
• 2 Tablespoons Vegetable Oil
• 5ml Vanilla Extract
• 125ml Strong Black Coffee
Directions:
1. Preheat oven to 350°F
2. Coat a 9-inch round cake pan with cooking spray.
3. Line the pan with a circle of wax paper.
4. Whisk flour, granulated sugar, cocoa, baking powder, baking soda and salt in a large bowl.
5. Add buttermilk, brown sugar, egg, oil and vanilla.
6. Beat with an electric mixer on medium speed for 2 minutes.
7. Add hot coffee and beat to blend. (The batter will be quite thin.)
8. Pour the batter into the prepared pan.
9. Bake the cake until a skewer inserted in the center comes out clean, 30 to 35 minutes.
10. Cool in the pan on a wire rack for 10 minutes; remove from the pan, peel off the wax paper and let cool completely.
11. Dust the top with confectioners' sugar before slicing.