The Lounge > Recipes >
Chipotle-&-Orange Grilled Chicken
A great chicken lunch full of protein
Ingredients: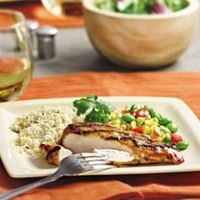 • 30ml Orange-juice concentrate, thawed
• 14g finely chopped chipotle peppers in adobo sauce, (see Note)
• 30ml balsamic vinegar
• 15ml unsulfured molasses
• 15ml Dijon mustard
• 1 pound boneless, skinless chicken breasts, trimmed
• Salt for taste
Directions:
1.Preheat grill or broiler.
2. Whisk together orange-juice concentrate, chipotle pepper, vinegar, molasses and mustard in a small bowl.
3. Lightly oil the grill or broiler rack (see Tip). Season chicken with salt and grill or broil for 2 minutes. Turn, brush with the glaze and cook for 4 minutes, brushing occasionally with glaze. Turn again, brush with the glaze, and cook until the center is no longer pink, 1 to 2 minutes longer.
Nutrtion Valus Per Serving:

150 calories
23 g protein
7 g carbohydrates