The Lounge > Recipes >
Chicken with sun dried Tomatoes and an Artichoke sauce
Delicious chicken dish full of protein and perfect for a post workout meal
Today's Delicious recipe is a beautiful Chicken with sun dried Tomatoes and an Artichoke sauce, Full of protein and perfect for a post workout meal
Ingredients: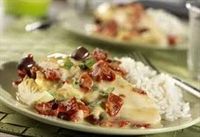 • 6 artichoke hearts
• 125ml organic chicken broth
• 30ml heavy whipping cream
• 225g boneless chicken breast
• 1 clove garlic
• 30g chopped shallots
• 56g cup sun dried tomatoes
• 125ml white wine vinegar
• 150g Pasta or Rice to serve
Directions:
1. Spray a non-stick pan with cooking spray.
2. Add salt and pepper to both sides of chicken. Sear chicken on both sides and turn down heat.
3. Add low fat butter then the finely chopped shallots, garlic, and sun dried tomatoes
4. Cook for a few minutes until lightly brown (be careful not to burn). Deglaze pan with the wine vinegar.
5. Add chicken broth and heavy cream.
6. Simmer for a few minutes. Sauce will thicken slightly. Serve with veggies, over pasta, or with rice.
Nutrition Value:
Calories: 260g
Protein: 24g
Carbohydrates : 9g