The Lounge > Recipes >
Chicken and vegetable lasagne
Light and easy to prepare
Ingredients: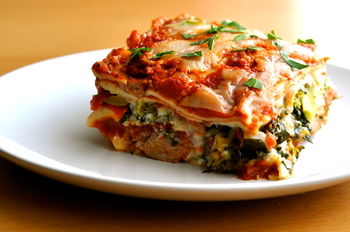 Oil spray
400g lean chicken mince
1 onion, finely diced
1 red capsicum, finely diced
2 x 400g cans chopped tomatoes
1 tablespoon dried Italian herbs
2 cups mashed cooked pumpkin
300g frozen spinach, thawed, cooked, drained
375g fresh lasagne sheets
400g passata
1/2 cup grated edam cheese
Directions:
1. Preheat oven to 180°C. Spray a non-stick frying pan with oil. Cook chicken mince for about 5 minutes until browned, breaking up lumps. Add onion, capsicum, tomatoes and herbs. Combine and heat through.
2. Cut pasta sheets to fit lasagne dish. Layer chicken pasta sauce with pasta sheets then a layer of mashed pumpkin, then a layer of spinach. Continue this process and end with a layer of pasta.
3. Pour passata over assembled lasagne and sprinkle cheese over top. Bake in oven for 30 minutes.