The Lounge > Recipes >
Chicken and rice noodle stir-fry
Quick and easy to prepare
Chicken and rice noodle stir-fry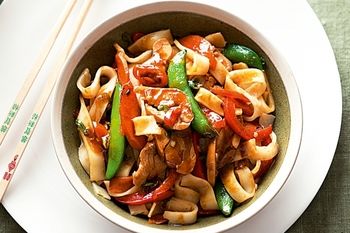 Full ingredient list:
300g fresh rice noodles
cooking oil spray
300g chicken tenderloins, sliced
500g pumpkin, peeled, cut into thin slices
2 cups broccoli florets
1 bunch bok choy, leaves separated, shredded
4 green onions, sliced
1/3 cup gluten-free stir-fry sauce (such as Ayam Honey and Soy marinade and sauce)
250g firm tofu, cut into small cube
Directions:
1. Place noodles into a large bowl and cover with boiling water. Separate with a fork, drain and set aside.
2. Spray a wok with oil and place over high heat. Cook chicken in batches for 2 minutes, until golden and cooked through. Remove and keep warm.
3. Return wok to high heat. Add pumpkin and 2 tablespoons water. Stir-fry for 3 minutes. Add broccoli and stir-fry for 2 more minutes. Add bok choy and onion. Stir-fry for a further 2 minutes, until bok choy is tender. Return chicken to wok and add stir-fry sauce. Add tofu and reserved noodles. Toss to combine before serving.