Ingredients: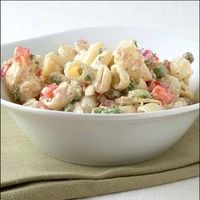 ◦150 grams skinless, boneless chicken breast
◦ 1-2 cups macaroni
◦ 1 (15 ounce) can mixed vegetables, drained
◦ 2 cups shredded lettuce
◦ 1 cup low fat mayonnaise
◦ 1/4 tablespoon dried basil
◦ salt and pepper to taste
◦ 1 pinch garlic powder
Directions
◦In a medium skillet over medium heat, cook chicken Until no longer pink and juices run clear. Please rest Until cool
enough to handle, then shred with two forks.
◦In a medium pot with Boiling salted water, cook macaroni. Drain and rinse under cold water.
◦Meanwhile, in a large bowl mix together the cooked chicken, drained vegetables, shredded lettuce, and mayonnaise.
Add basil, pepper, salt, and garlic powder to taste.
◦Add drained macaroni to chicken mixture. Toss to coat