The Lounge > Recipes >
Chargrilled steak with sweet potatoes & salsa
A delicious and healthy lunch/ evening meal
Ingredients: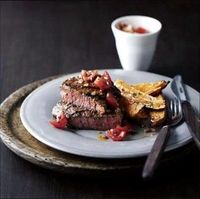 • 2 small sirloin steaks , all fat removed
• 2 tsp sweet paprika
• 1 large sweet potato , cut into wedges
• 1 tbsp extra-virgin olive oil
• 150g cherry tomatoes , quartered
• ½ red onion , chopped
• a small bunch of coriander , chopped
• 1 tbsp red wine vinegar
Method:
1. Heat the oven to 200C/fan 180C/gas 6. Rub the steak with 1 tsp of the paprika and season well. Toss the potato with half the oil and season, then roast for 25 minutes until browned and crisp.
2. While they're cooking, mix the tomatoes, onion, coriander, vinegar, remaining oil and paprika in a small bowl and toss. Season.
3. Chargrill (griddle) the steak for 2-3 minutes on each side and serve with the potatoes and the salsa.