The Lounge > Recipes >
Cauliflower & Parsnip mash
Cauliflower & Parsnip mash.
Ingredients: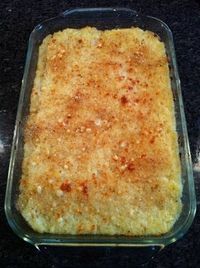 • 2 heads of cauliflower, stems removed and chopped
• 2-3 small parsnips, peeled and chopped
• ½ head of roasted garlic
• 1 tablespoon Unsalted butter
• 60ml cup skim milk
• Salt and pepper
• 2 tablespoons seasoned breadcrumbs
• 2 tablespoons ground pecorino cheese
Directions:
1. Rinse and chop the cauliflower and parsnips and put them in a steamer over medium heat. Steam until the veggies can be easily pierced with a fork.
2. While your cauliflower and parsnips are steaming, roast your garlic. To do this, preheat your oven to 400 degrees.
3. Cut off the top of the garlic head but leave the peel intact. Drizzle a bit of olive oil over the exposed garlic and wrap in tin foil.
4. Roast the garlic for about 30 minutes.
5. Once the garlic is done, squeeze the cloves into a bowl with the cauliflower and parsnips. Add the butter, milk, salt and pepper and mash together using a fork or potato masher.
6. Pour the mashed veggies into a glass baking dish and sprinkle breadcrumbs and cheese over the top.
7. Bake in a 350 degree oven until the top is browned and serve.