The Lounge > Recipes >
Carrot and feta fritters
Packed with simple ingredients, these fritters are delicious!
Full ingredient list: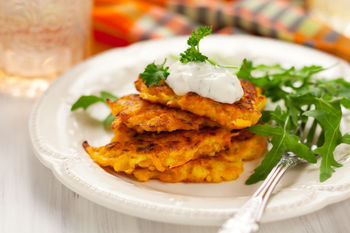 4 carrots (300g total), grated
150g reduced-fat feta, crumbled
2 teaspoons pesto
1/2 teaspoon chilli flakes
1/2 teaspoon smoked paprika
1/2 teaspoon cumin seeds
1/4 cup plain flour or cornmeal
2 eggs
Cooking oil spray
Salsa salad
6 tomatoes, chopped
1/2 avocado, chopped
1 red onion, sliced
2 large red capsicums
4 cups rocket leaves
2 cups cooked couscous
Directions:
Step 1 Combine carrot, feta, pesto, chilli flakes, paprika, cumin seeds and flour in a large bowl. Adjust the seasoning to taste. Add eggs and mix well. Form tablespoon-sized portions of the mixture into fritters.
Step 2 Spray a large frying pan with oil and place over medium heat. Fry fritters in batches, 2–3 minutes each side, turning as they brown.
Step 3 Make the Salsa salad by combining all ingredients together in a large bowl. Garnish with low-fat tzatziki.