The Lounge > Recipes >
Blueberry Pancakes
Yummy high protein blueberry pancakes
Ingredients: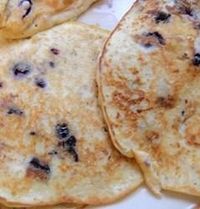 • 2 x medium eggs
• Handful of oats
• Half a cup of wholemeal flour
• 1 Scoop LA Whey protein powder
• 1 x pot 0% Total Natural Yogurt (170g pot)
• Handful of Blueberries
Method:
1. Put all ingredients in a large bowl. Crush the blueberries before adding them so that the juice would spread throughout the mixture and flavour it nicely.
2. Mix all the ingredients for a few minutes until you get a thick batter.
3. Put your pan over a medium heat and add the mixture. Do not try to make large pancakes with this, they will break when you attempt to flip them over. Make around 2 x Medium pancakes using the ingredients above.