The Lounge > Recipes >
Black Bean & Chicken wraps
Delicious lunch time recipe Black Bean & Chicken wraps
Ingredients: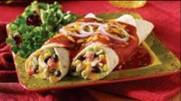 • 3 chicken breast halves, boneless and skinless
• 4 tortillas
• 2 teaspoons olive oil, divided
• 1 clove garlic, peeled and minced
• 1 medium Shallot; peeled and minced
• 1 jalapeno pepper, seeded and finely chopped
• 1 can Black beans drained, rinsed and drained again
• 1 large Ripe tomato cut into 1/2-inch cubes
• 3/4 teaspoon Ground cumin; divided
• 1/4 teaspoon Cayenne pepper; divided.
1/2 teaspoon salt, divided
• 2 teaspoons finely chopped fresh cilantro
• 1 medium red onion, thinly sliced
• 4 teaspoons Lime juice; divided
• 1/4 cup plain low-fat yogurt


Directions:

1. Cover the chicken with cold water, bring just to a boil, reduce the heat and simmer until cooked through. Cool, shred with your fingers and refrigerate.
2. Wrap the tortillas in foil and place in a preheated 200-degree oven while preparing the remaining ingredients. Heat 1 teaspoon olive oil in a medium-sized pan over medium heat. Add the garlic, shallot and jalapeno; saute 1 minute. Add the black beans, tomato, 1/2 teaspoon cumin, 1/8 teaspoon cayenne pepper, 1/4 teaspoon salt and the cilantro.
3. Heat through and keep warm over low heat. Heat the remaining 1-1/2 teaspoons olive oil over medium heat. Add the red onions and sauté until they begin to soften.
4. Stir in the chicken, 1/4 teaspoon cumin, 1/8 teaspoon cayenne and 1/4 teaspoon salt. Heat through 3 Remove the chicken from the heat and stir in 2 teaspoons lime juice; stir 2 teaspoons lime juice into the black beans. Spoon the chicken and bean mixtures into the warm tortillas; top with a little yogurt.