The Lounge > Recipes >
Beef Chow Mein
A delicious beef chow mein meal high in protein.
Ingredients: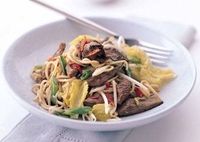 • 15ml olive oil
• 180g top sirloin beef, cut into strips
• 300g fresh cabbage, shredded
• 1 medium onion, sliced
• 8g garlic
• 3 stalks celery
• 4 green onions chopped
• 2 servings thin noodles
• 15ml tbsp soy sauce

Directions:
1. Heat oil in large frying pan or wok.
2. Brown beef.
3. Add celery, onion and garlic - cook until onions are clear.
4. Add green onion and cabbage - cook until cabbage is limp.
5. Add noodles and soy sauce.
6. Cook until warm through
Nutrition Value:
Protein: 16g
Calories: 225g
Carbs:28g.