What's the loading & maintenance dose for Explosive Creatine?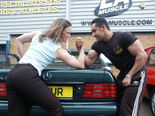 Explosive Creatine comes with full instructions on the tub. If you have never been on Creatine or you have not been on it for over 1 month, then you need to do a loading dose.
This means taking between 3-4 scoops a day for 4-5 days (Loading Dose). After this, you take 2 scoops a day. On training days you can take 1 scoop before and 1 after training. On non-training days you can take 1 in the morning and 1 in the evening.
Make sure you drink lots of water during the day and don't ever stay on Creatine for longer than 6 (maximum 8) weeks at a time.
If you have a break of less than 4 weeks from Creatine use, you do not have to load up again - just carry on with maintenance.