The incredible cinema experience awaits you. LA Muscle are giving away this amazing Samsung TV and Bose Surround Set worth over £3700. Checkout the specs below;

* Samsung Curved 4k Ultra HD Smart TV, 65" with TV Plus / Freesat HD & 360 Design, Silver, Premium range.

* Soundbar Bose CineMate 15 Black with sharp cinema sound quality. Extra Bass for the ultimate cinema experience.

This amazing competition will end on 27th July 2017 where a winner will be selected at random.

* Please note it's important to sign up to the mailing list as the winner will be emailed directly by LA Muscle.

Terms and conditions apply

What is the capital city of Germany?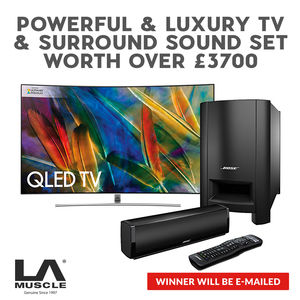 Terms and conditions apply