Mike Joseph
Double World Powerlifting Record Holder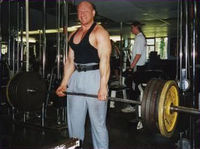 Mike is a previous World Bench Press Champion and has made an explosive comeback following major shoulder surgey.
He lifted in the Eastern Counties Divisonal and lifted a respectable 170 kg at a body weight of 74.2kg, setting a world record in the Masters category (over 40's).
Mike has won the British Bench Press Championships and as also broken the British Bench/ European & World Records with a lift of 180kg (the previous record stood since 1994).
Mike is now a Double World Record holder with records held at 2 different body weights (this time at 75kg and his previous record lift 198kg at 82.5kg.
After Mike's Absence due to an injury he competed in the World Championships in France and secured his 10th World Title (2012)
He lifted over 2.4 x body weight and that is some of the best drug free lifting ever recorded.
You can watch Mike's world record lift here http://youtu.be/NfdMhcDkdnA and check out his website here www.mikejosephofficial.com

You can also follow Mike at twitter@benchpressmike