Jay Burr
NPA Welsh Championships (Novice)- 3rd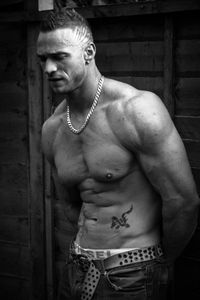 For the past two years Justin has been training extremely hard 6 days a week under the supervision of one of our sponsored athletes Richard Walker.
He is on a avery strict diet but thanks to using LA Muscle supplements he gets commented on his general conditioning. Jay has already tried products such as Explosive Creatine, Norateen Heavyweight II, Vasculator, Nobese and Fat Stripper, He recently competed in the NPA Welsh Championships which was his first competition ever. He was entered to the Novices category, came third and qualified for the British Championships.
Jay recently competed at the UKBFF Stars of Tomorrow (2011), where he was placed 4th.