David Ashton
NPA South West Championships 2008 (70 kg category) 1st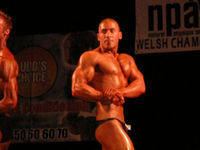 David is a young natural bodybuilder. In his first competition, the NPA Welsh, he managed to place 2nd in the Novice Class. He also qualified for the NPA British Finals 2006.
Achievements:
NPA South West Championships, 70 kg category- 1st (2008)
On LA Muscle Products David says:
"I have used LA Whey for almost 2 years now and I can honestly say that it's the best protein shake I've tried. With a massive 48g of protein per serving there's now no excuse to fail your daily protein intake. It helps my muscles to recover quickly and leaves them feeling solid and full. There is a large variety of flavours to choose from and each one is delicious. It mixes well and holds a smooth consistency.