Jim "Whitelion" Tanner
Two time TSW Heavyweight Pro Wrestling Champion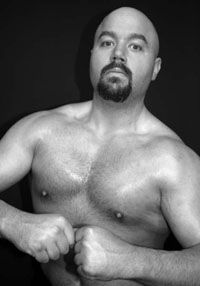 Jim is a Heavyweight Wrestling champion based in New York, US. His achievements up to date include:
Two time TSW Heavyweight Pro Wrestling Champion
Two time TSW Tag Team Champion
World of Hurt Wrestling Champion
Sold out Rutland, VT national guard armoury 3 times in a row.
Jim's goals are to be contracted pro-wrestler for TNA or WWE within the next 12 months. He also actively works towards a spot on one of the upcoming reality TV shows.
Some of the products Jim currently uses are Norateen II and CEE Supercharged. On the products he says: "I've been on the Norateen II and CEE, and after only 10 days I can say that I really like the results. I'm stronger and my recovery is faster. I'm also seeing improved muscle quality as everything is getting harder...."
On LA Muscle Jim says:
"I am proud to share with everyone that today I have been accepted as a sponsored athlete with LA MUSCLE !The men and women at LA MUSCLE have been very helpful in walking me through this process and I am excited that something that felt like a "long shot" a month ago is now actually happening.Although I am not the first Indy worker that they have selected as a sponsored athlete I am committed to represent us all to the best of my ability in the hopes that this opportunity is extended to many of you, my friends in this business..."
To have a look on Jim's MySpace profile please click HERE
Jim also gets regular exposure in media. Please click HERE to listen to his radio interview. Part two of the interview is available HERE. He also made two TV commercials: TV Commercial 1 and TV Commercial 2. Also, you can read more about Jim HERE and HERE