Chris Andrews
Professional All Star Wrestler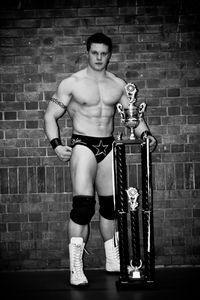 Chris gained a good understaning of professional wrestling in his short time in the business and gained regular work with companies such as: All Star Wrestling, Varsity Pro Wreslting, Premier Promotions and other top UK companies.
Chris Andrews began his wrestling career in 2005 after becoming the first graduate of the VPW school of excellence.
Chris has wrestled some of the top wrestlers from around the globe, including former WWE superstars Hardcore Bob Holly, Bad Ass Billy Gunn, and Davari. Most of his success has come in his home country of England where he has won multiple tittles and tournaments, as well as several successful tours of Ireland returning home with new championships on most occasions. He is also one half of the current DWA Tag Team champions with his younger brother Sam (The Andrews Brothers) which they recently defended in a ladder match in front of a sell out crowd in their home county of Devon. Chris keeps himself in top condition with a strict bodybuilding training routine along with a good diet, which he supplements with various LA muscle products including LA whey and Norateen Heavyweight ll.
His goals for future include gaining work overseas and to continue learning the business. His long term goal is to make it to the WWE.
Achievements:
Chris won pro EVW heavyweight championship 2012
Chris won the DWA Devon trophy defeating Nick Riley 2012

Chris won the VPW championship at the Portsmouth Guildhal 2012 l