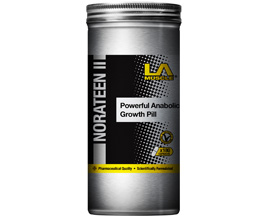 Guaranteed delivery by
Tuesday, 17th December
if you order in the next
65 hours and 30 minutes
(choose
Next Day Delivery
at checkout)
Norateen® II
Male hormone-free muscle-builder, OK for IOC Athletes
$119.35
Buy 3 for $289.90
(SAVE $68)
Top-selling muscle builder with no side effects
100% natural and safe for all levels
100% money back guarantee
Norateen II - very strong & powerful
LA Muscle spent 2 years developing Norateen II. This supplement is as strong as the original Norateen (which was banned in the UK due to its strength) and contains more ingredients. Norateen® is the creation of LA Muscle and its Registered Trademark. Do not accept copies or substitutes.
Potent - as used by professionals
Norateen II contains Beta Ecdysterone (BEC). This powerful new muscle builder has been shown to be extremely strong and effective at muscle building. You get the highest safe world dosage of BEC now at 90mg per day. BEC is in short supply and high demand. LA Muscle were the pioneers of Beta Ecdysterone (LA Muscle owns betaecdysterone.com).

Leucine - L-alanine - Taurine - ALA - ALC
An amazing combination of 5 ingredients that have been shown to be extremely beneficial to body builders, athletes and anyone performing heavy lifting. You get these in the right ratios in Norateen II.
You won't find anything even close to Norateen II
Norateen II combines BEC with ALC and Methoxyisoflavone (non-androgenic estrogen blocker, anti-catabolic), Acetyl L-Carnitine (muscle-builder, performance enhancer), Alpha Lipoic Acid (protein shuttle product, glucose stabiliser, uptake agent) and Zinc to give you more results than any other product on earth. No other company is able to give you this unique combination at this or any price. Expect amazing gains in muscle. Keep your protein intake high for better gains.
Safe, powerful gains of pure lean muscle mass
Norateen II works even better with a quality whey protein such as LA Whey. This is not to sell you more supplements, but a fact that has been noted in scientific tests. Keep your protein intake as high as you possibly can and you will truly be amazed at the results.
As a guideline, you should take at least 1.5 to 2 grams of quality protein per lb of bodyweight per day. This should be spaced out throughout the day. You should also train heavy and hard, on a split routine. But don't overtrain. Train each bodypart no more than once every 6-7 days. If you have got the budget, combine Norateen II with Norateen Heavyweight II.
Chosen by Men's Health Magazine
THIS PRODUCT IS CHOSEN BY MEN'S HEALTH MAGAZINE FOR THEIR MEN'S HEALTH BEACH BODY CHALLENGE
If you wish to read about some "real life" unbiased results from this product please check out the Men's Health Beach Body Challenge.
Product Science
1. Am J Physiol 226: 411-418, 1974
0002-9513/74 Am J Physiol -- Legacy Content, Vol. 226, Issue 2, 411-418, February 1, 1974
Metabolic fate of leucine: a significant sterol precursor in adipose tissue and muscle, J Rosenthal, A Angel, and J Farkas

Patented weight loss formula, protects muscles, 100% natural
LA Whey, Norateen Extreme, Nuclear Creatine, LA Shaker
Men's Health Magazine: Best Muscle Pill Awards 2012

Exclusive LA Muscle Privilege Club