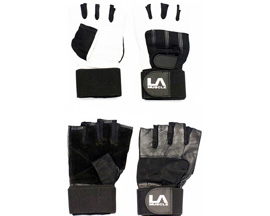 Guaranteed delivery by
Thursday, 12th December
if you order in the next
4 hours and 41 minutes
(choose
Next Day Delivery
at checkout)
Gloves
Highest quality premium genuine leather gloves
$25.49
Buy 2 for $42.51
(SAVE $8)
Genuine premium quality soft leather
Durable, strong and comfortable
15" strap
Unique Velcro support
The best gloves on the market
The LA Muscle leather gym training gloves are the highest quality gym gloves you can get. They are made of premium quality genuine soft leather and come with a 15" strap for the ultimate support. These gloves are comfortable and come with Velcro. They are extremely durable and ultra trendy with the LA Muscle logo in the middle. These are not cheap and nasty gloves which get ruined after a couple of days. They are the best training gloves you can get.

Choice of black suede or white padded
It's a tough choice! You can choose between the super-chic white leather gloves which come with extra padding or the beautiful black leather gloves which come with suede. If you find the choice hard like we do, go for the special offer and get 2. You won't be disappointed, these gloves are The Business!

7 days supply of the world's strongest fat burner

Top Norateen muscle builder & Best LA Whey protein

High Quality Durable Shaker, ideal for protein & weight gain drinks

6 ingredient super fat loss product