Paul Amos
Personal Trainer to the Stars, Male Model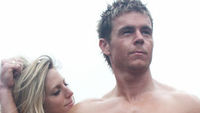 Paul is a well-known face amongst the elite and celebrities who are looking to build a head-turning body. As well as modelling in his spare time, Paul also find time to compete in bodybuilding competitions.
Paul has a complete body and keeps very low body-fat levels all year round. He has been featured in Magazines such as Men's Health and Men's Fitness.
You can see Paul show you exactly how he achieved his amazing physique in the exclusive LA Muscle video The Ab Man.
Paul is a regular user of LA Whey, Norateen Heavyweight II and Fat Stripper.
An exclusive LA Muscle video of Paul by clicking here and you can also see a Special Edit of the Ab Man DVD on www.theactivechannel.com